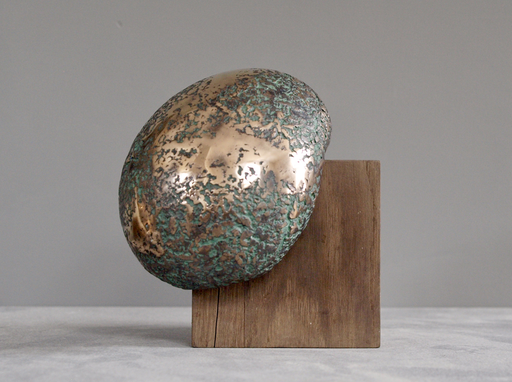 In my earlier work the woman, her clothes, and the symbiosis between them played a crucial role, see www.tonvoortman.eu.
During an exhibition on Guernsey, I was inspired by the huge stones on the flat beach. The stones are wholly or partly enclo–sed by sand and water. They form, as it were, a new translation of the symbiosis I tried to represent until then.
Back home I looked again at old work and sketches from my period at the academy. This led to numerous experiments with anything I could find. This resulted in a completely different way of working, much more democratic. Where I used to force clay, plaster and iron into the line that I had devised in advance, now the materials had an influence on the final result, even chance played a role.
During the lockdown of 2020 I worked in my French studio, apart from everything that was familiar to me and only depending on the materials available there. The result is a series of works that are totally 'Antoniem' (translated: Antonym)* to my figurative work.
I really like the surprising contrasts in my new work and feel strongly inspired by the new and uninhibited symbioses. The shapes are simpler, the contrasts between the different elements are greater and there is more cohesion. They are contemporary moments, represented by a cube and an amoeba.
Ton Voortman
* Two words that have opposite meanings are called an antoniem (English translation = antonym). It is also the combination of my first name Antoni and Experimental Modeling.